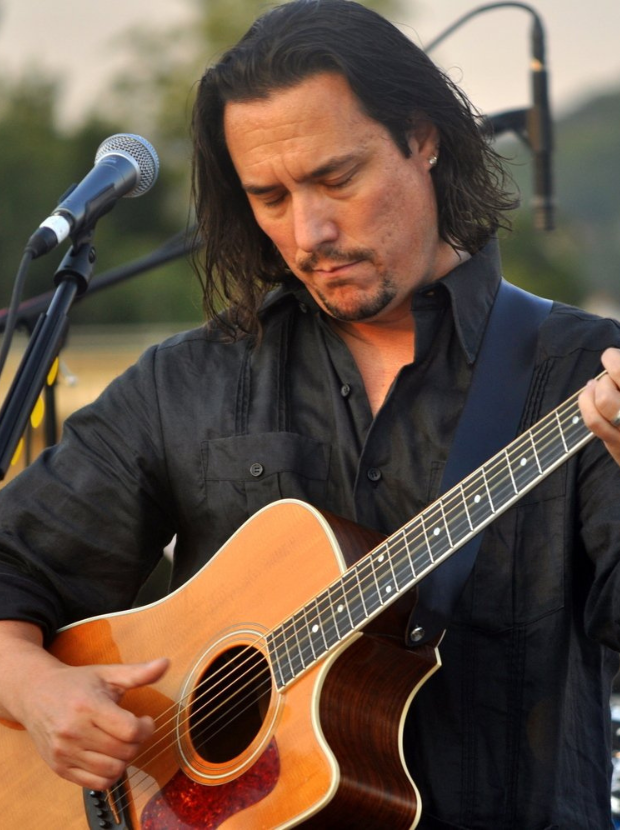 City Center Unplugged featuring Pacific Standard
Jun 9, 2023
6:00pm–8:00pm
Save those Friday evenings for dinner at one of City Center Bishop Ranch's many restaurants. Grab an outside table, enjoy a leisurely dinner, and catch some of the tunes that will be filling Alexander Square.
Each Friday's music will have its own rhythm and beats, with everything from retro to rock, Brazilian to blues, Latin to salsa, and of course a good dollop of jazz. You just might find yourself dancing your way back to the car. And setting the tone for a fine weekend.
Location
Alexander Square
View Directions
JUNE 2
Michelle Lambert– Pop/Folk singer/songwriter
Michelle Lambert brings a world of experience when she steps up to the microphone. This Pop/Folk singer/songwriter has toured out of Nashville, Los Angeles, Denver and Miami after graduating from Berklee College of Music on a full scholarship. Michelle's latest single, Come to Me, has caught the attention of the press and reached number 1 on Indie Radio for 4 consecutive weeks! Hailing from Mendocino County, Lambert began studying violin at age 2, vocals at 5 and piano and drums soon after which helped develop her songwriting and musical foundation. She is influenced by her studies in Celtic music and female empowerment is a recurring theme in her music. She is a genre-defying 21st century talent with a lot on her mind.
JUNE 9
Pacific Standard– Americana, rock
Disciples of the groups like The Band, Eagles, and Grateful Dead, Pacific Standard draws musical inspiration from the Laurel Canyon and Americana traditions of strong songwriting, top musicianship, and colorful vocal harmonies. Formed in San Francisco in 2015, Pacific Standard features some of the San Francisco Bay Area's most talented musical performers.
Featuring Benjamin Lee on Bass, David Phillips on Pedal Steel, Ian Ratzer on Keyboards and vocals, Greg Lamboy on Guitar and Lead Vocals, and Dup Crosson on Drums, Pacific Standard fuses Americana, Alt-Country, and Folk Rock into a seamless blend of original and accessible music that is appreciated by a wide and diverse audience. Their debut album "The Honeyed & the Bittersweet, Volume I" features 6 original tracks of immediately accessible Americana music that bridge the sweet harmonies of Laurel Canyon with the deft musicianship exemplified in the jam band movement. From the radio friendly "Sooner or Later" to the sweet, swaying groove of "Consolation", The Honeyed & the Bittersweet, Volume I evokes an era of afternoons spent listening to records and learning all the words to your favorite songs.
JUNE 16
Ren Geisick– Americana singer songwriter
Ren Geisick is a jazz singer turned singer/songwriter from Silicon Valley, California. Her first album, "Ren, Love Song" produced by Jesse Harris, was released in 2017 and, since May 2019, Ren has been releasing singles from her upcoming "Ruby EP" inspired by the life, and catch phrases of her Grandma Ruby from Oklahoma.
Ren's music, is a manifestation of her Americana roots that is decidedly personal yet universally relatable. Borrowing elements of jazz, blues, and country, Ren delivers heartfelt performances of original music and reimagined classics. Never one to remain confined by a single genre, Ren flows seamlessly from a carefree country shuffle to an introspective ballad. What remains consistent throughout is her intimate lyrical delivery and vibrant energy.
JUNE 23
Monica Da Silva– Brazilian/American Singer songwriter, Indie music
Monica da Silva and Chad Alger are a Brazilian American duo, whose original sound blends Bossa Nova, Acoustic Folk, and French Cafe styles into a genre they've coined Indie Nova. Their songs have been nominated for an International Brazilian Press Award, and are featured in the Golden Globe Award winning movie 'Lady Bird', in the Netflix movie "The Last Summer", on the Putumayo World Music compilation 'Brazilian Beat', in The 2014 FIFA World Cup, and appeared in the 2019 Pre Fall campaign for the American fashion designer Tory Burch.
JUNE 30
Five Ten– World Jazz
Five Ten is a San Francisco bay- area World Jazz group consisting of five longtime friends and international players that includes Master Keyboardist Composer Steve Carter, Bass Guitarist/Composer Dennis Smith, Multi-Percussionist/Composer Marghinho Brasil, Grammy-nominated Jeff Narell on Steel Pans, together with Santana and Frankie Beverly and Maze Alumnus, Billy "Shoes" Johnson on drums. Five, Ten are seasoned, internationally renowned musicians each with his own impressive legacy of performances and shared stages. Versatile and talented, Five Ten blends rhythms, cultures, and traditions from all over the world. Their latest CD entitled "New World" is a hypnotic fusion of urban street grooves with Brazilian and Caribbean flavors infused with hints of African rhythms resulting in a genre-defying, exciting, pulsating musical experience.
JULY 7
Lucas Sanchez– Rock, Pop, Americana
Born and raised in the musically-rich San Francisco Bay Area, Lucas Sanchez is an up and coming guitarist, singer/songwriter, and composer, whose music is assured to grab your attention. His music is a carefully crafted cocktail of sounds that draw inspiration from rock, blues, funk, pop, jazz, and more. Lucas's guitar work is energetic and distinct with underlying tones of Hendrix, Clapton, Satriani, and Stevie Ray Vaughan; while his songwriting is influenced by masters like Stevie Wonder, John Mayer, Sting, and Dave Matthews.
In 2020 Lucas released his very first original work. He released a six-track EP of all original music to showcase his versatile songwriting. This self-titled EP is available on all streaming platforms (Spotify, Apple Music, Amazon, Tidal, etc.). Lucas also collaborates with artists through studio work and songwriting. So far his main collaborations include Moonlight Jack and DELE. Lucas' music is impossible to classify under one genre. He draws influence from many styles of music, new and old, all while making it, unmistakably, his own.
JULY 14
Poi Rogers– Country Western Swing
Somewhere in-between the tropical lounges of 1930s Los Angeles and the honky tonk beer joints of rural 1950s California, you'll find Poi Rogers. Hailing from Santa Cruz, CA, the duo performs original and vintage country & western swing, Hawaiian steel guitar ballads and cowboy tunes.
Gerard Egan and Carolyn Sills are both inductees into the Sacramento Western Swing Hall of Fame. Carolyn was named the Academy of Western Artists' 2021 Western Swing Female Vocalist of the Year, and is currently nominated for a 2023 Ameripolitan Award for the same. Poi Rogers features Gerard doubling on acoustic guitar and his 1954 Fender triple neck steel guitar with Carolyn on standup bass, their timeless harmonies anchoring the show.
JULY 21
Island of Black and White– Rock, soul, reggae
A fusion of rock, funk, blues, folk and reggae, IBW emerged from the foothills of El Dorado County in 2004. As solid contributors to the local music scene in and around Sacramento for over a decade, Island of Black and White has established itself as a soulful, musical powerhouse. Having played for the heaving crowd of thousands, their music has gained a substantial and loyal following. IBW delivers high energy performances, playing a large variety of music, including originals and covers.
JULY 28
Tam Funk Railroad– Rock, soul
Jim Funk is a singer and songwriter of the melodic British pop school (not the C&W songwriter of the same name) ushered in by The Beatles and extended by tuneful Brits and Commonwealthers of the following generations like Squeeze (Glenn Tilbrook), Crowded House/Split Enz (Neil Finn), Elvis Costello, Peter Gabriel, The Police/Sting, Colin Hay, Oasis and more recently by groups like Keane and Coldplay, and adds an American voice to the mix of what he feels has by now become its own form of traditional music.
Jeff Tamelier is an established artist, musician, producer, and educator who's enjoyed playing with and producing artists from all walks of life, including Alternative, Country, Funk, Hip-Hop, R&B, Smooth Jazz, and Techno, and has toured as lead guitarist for Tower of Power and with Mickey Thomas and 'Starship', while endorsing a number of cutting-edge companies like Dunlop, Fender, and Monster Cable. In 1985, he joined Lydia Pense & 'Cold Blood', a popular East Bay band from Bill Graham's San Francisco label. Today, he spends time as President of House of Hansen Productions, LLC, where he is responsible for all music production and client services at The Track Shack Studios in Sacramento, CA, and performs regularly with various artists & bands at venues all over the Bay Area.
AUGUST 4
Lorin Rowan Trio– Reggae, Americana
Lorin Rowan, Singer/songwriter/multi-instrumentalist, was born and raised in the rural suburban New England town of Wayland, Massachusetts, 20 miles west of Boston, along with his two older brothers Peter and Chris. Around the age of 12, self-taught and learning to 'play-by-ear', Lorin started out on a Harmony tenor 4-string guitar before he learned how to play 6-string. Peter's early interest in Bluegrass helped inspire Lorin to play mandolin.
After graduating from high school in 1970, Lorin and his brother Chris formed 'The Rowan Brothers'. Within a year they were signed by Clive Davis on Columbia Records and recorded their first album. Lorin and Chris then teamed up with brother Peter as "The Rowans" and were signed by David Geffen to record three albums on Warner/Asylum; 'The Rowans', 'Sibling Rivalry' and 'Jubilation' respectively. The country-rock arrangements featured their sterling three-part harmonies.
AUGUST 11
Jenny Madrigal– Pop, Indie folk
In Boston, MA Jenny attended Berklee College of Music where she received a dual bachelor's of music in Music Therapy and Music Business Management and continued her studies in Music Therapy at various local hospitals such as Harvard Vanguard. At Berklee, she was involved in the Latin Jazz and Steven Sondheim Vocal Ensembles. At Berklee, she met Phil Didlake, a Livermore local who was also pursuing a Music Therapy degree at the time.
Jenny and her husband Phil Didlake started Rhythmic Innovation LLC, a company which provides rhythm events for education, wellness and community. As a board-certified music therapist, Jenny provides professional music therapy services for groups and individuals of all abilities. Jenny and Phil can be found playing live music locally in Livermore and supporting the Meredith McHenry band and Lucas Sanchez Trio.
AUGUST 18
David Correa Trio– Latin jazz
A National recording & touring artist David Correa has been entertaining audiences since 1999 with his passionate and distinctive blend of instrumental Latin/World Guitar. The music is a blend of the Spanish guitar with Latin rhythms from Old Mexico & Central America, Afro-Cuban and Rumba Flamenca.
AUGUST 25
Carlos Reyes– Grammy award winning Latin jazz
Carlos Reyes recording artist, producer, engineer, harpist and violinist– has been breaking musical barriers since his first public performance at the age of five. Born in Paraguay South America. Carlos's first album, "The Beauty of it All", was on the Top-Ten Contemporary Jazz charts in Billboard Magazine for over 15 weeks. His solo harp collaboration on Sugo records titled "Harvest Moon", has received rave reviews since it's release. His latest recording entitled "Children of the World" and "Sesto Senso" have been released in Europe.