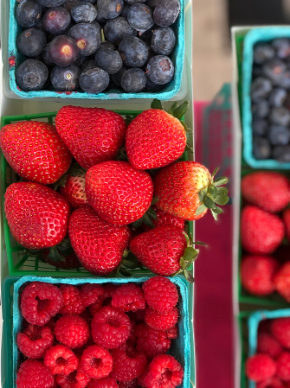 Saturday San Ramon Farmers Market
Jan 18, 2020
9:00am–1:00pm
Sweet Santa Maria Strawberries!
Thanks to the year-round growing season and cool, coastal climate, Santa Maria in California's Central Coast region, happens to be home to some of  the ripest, juiciest, largest strawberries in the country.  That's where we found Kem Organic Farms! Please welcome them to the market! Besides strawberries, they'll be bringing organic raspberries, blueberries and blackberries to the market.
Fun Facts About Strawberries
Did you know there are about 200 seeds on an average size strawberry? It also takes 30 days for each strawberry to mature from flower to fruit. California strawberries are packed with vital nutrients of vitamin C, potassium, folate, fiber and antioxidants.
Location
City Center Bishop Ranch
View Directions
Event Details
Saturday's vendors include Sun Rise Farms, Medina Farms, Kimberley's Kitchen, Mellows Nursery, Carla's Egg Ranch, Hummus Heaven and more. Visit the San Ramon Farmers Market for more information.