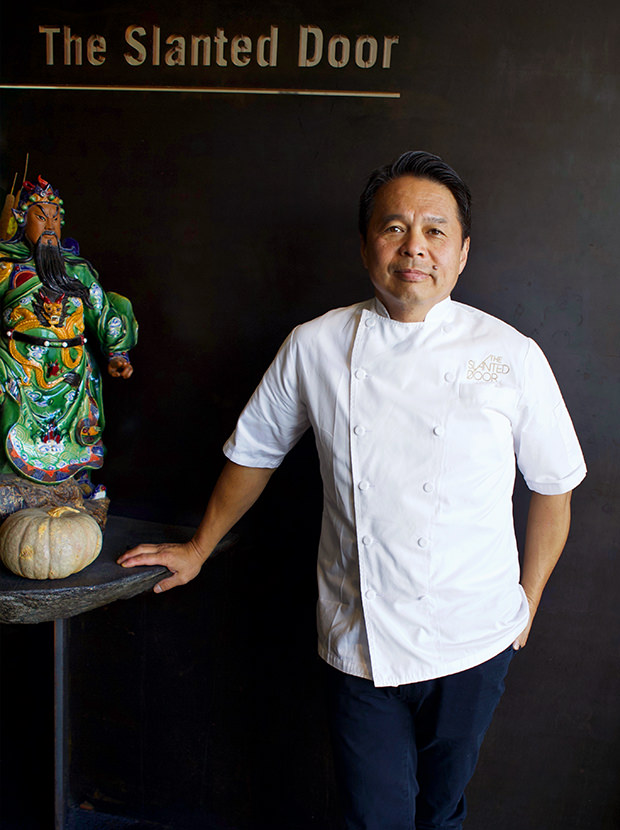 Meet Charles Phan
Founder of the Slanted Door
Award-winning chef Charles Phan brings his celebrated San Francisco restaurant The Slanted Door to City Center, opening up new worlds of warm hospitality and stunning Vietnamese flavors in the heart of San Ramon.
Visit the Slanted Door
What truly defines the menu at The Slanted Door? What's your current favorite offering?
Our style of cooking is very specific, with the goal of bringing traditional Vietnamese heritage and food to the table, but in a new environment with ingredients local to this area. I strive to replicate a little piece of Vietnam; from the way the dishes are cooked to the way they are served family-style, while always being conscious of ingredients that are native to California and San Francisco.
The menu is market driven and the dishes are always prepared with seasonal ingredients, like our crab with cellophane noodles.
What is the meaning behind the name?
I wanted to provide a name that gave you no clue about the kind of food or experience you were going to get, so as not to create false expectations. I knew the restaurant would serve traditional Vietnamese food and French wine but I wanted there to be an element of flexibility if needed.
After years in the Mission and now the Ferry Building, as well as other ventures like Hard Water in San Francisco and Rice & Bone at UC Berkeley—why City Center?
We've been in San Francisco for over 20 years and being at City Center brings forth a new challenge and an opportunity to create something completely different. I met Alex Sr. and Alexander Jr., and saw their vision—along with Renzo Piano—to bring exceptional food and design into the suburbs.
The Mehrans and Renzo placed an emphasis on design and as a student of architecture, I appreciated the careful planning and detail to things like the sidewalk and parking lot, which play a large part in creating the overall experience.
What are some of the biggest lessons you've learned since opening The Slanted Door in 1995? How did they shape your vision for this new San Ramon outpost?
I keep making the same mistakes. The biggest lesson I've learned is to stop making them.
What are some of your biggest inspirations today, whether in the chef world or beyond?
My first job was busing tables, so I was exposed to restaurants at an extremely young age. My parents would take me to French restaurants so I was always exposed to good food and enjoyed eating. Traveling is my inspiration. When I visit a new destination, I prioritize food tasting and exploration over any kind of sightseeing.
What would you like for people to feel when they have a dining experience at your new restaurant?
I want my customers to feel they are being taken care of.
Vietnamese cuisine has grown and evolved over centuries with the influence of several other food cultures (French, Thai, Chinese, etc.). How has it adapted to the Californian palate?
It's not that Vietnamese cuisine is adapting, it's that more and more people are looking for new ideas and to try new things. Sure, there is some adaptation needed to make it interesting, but the ingredients in Vietnamese dishes are amazing on their own. The ingredients drive the dishes.
Despite being given the James Beard Foundation Award for Best Chef in California, you've called yourself "a glorified home cook." What advice do you have for other passionate home cooks?
Learn how to eat. If you don't know what you're eating, find out. If all you're worried about is technique, then you are cooking blind.
In addition to having been awarded multiple times, including the national Beard Award for Outstanding Restaurant, you've also become an institution in Bay Area dining. How do you measure success for yourself?
I'm always looking ahead. I don't care about the past. Success can be measured by these two things: creating a company where people are happy, and making sure I take care of my own people. If I've done that, then I can take care of my customers properly. I start with the team.
What is your favorite dish to cook? Why?
I love to cook stew, and all wood-fire cooking. I'm fascinated by the manipulation involved in cooking with wood-fire. You have to constantly watch it. The flavor is unlike anything else.
Finally, what's your favorite thing in the world to eat?
I eat noodle soup more than anything. I'm usually a bourbon guy, but lately I've fallen in love with Mezcal.