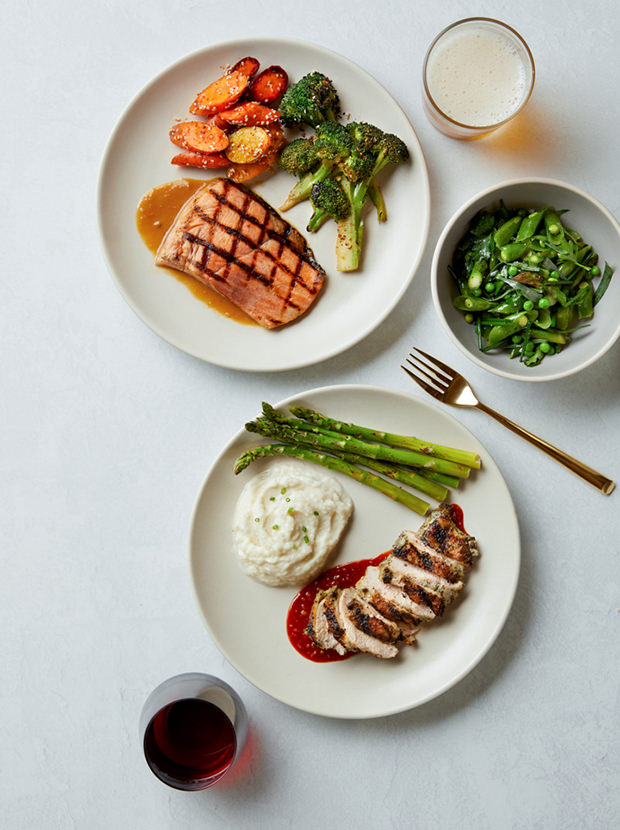 MIXT
Sun's Out. Greens In.
Farm-fresh, fast-casual concept featuring a wide selection of chef-crafted salads, grain bowls, and warm plates using only the highest quality, sustainable ingredients. Open seven days a week, stop by to enjoy lunch or dinner with an organic kombucha or wine + beer. Kids menu and catering available.
Visit MIXT
What makes MIXT salads stand out?
MIXT's goal is to prove that a salad can be a filling meal, not just a side dish, which means we serve big, hearty salads alongside grain bowls and plates. MIXT sources fresh, high-quality produce from farmers that we know and meticulously prepare all ingredients (dressings, roasted vegetables, grilled meats, etc.) from scratch in our kitchens. We change our menu seasonally, four times a year, integrating the best ingredients the season has to offer into our menu. Our mission is to make it easy for guests to enjoy a delicious, high-quality, seasonal, and nutrient-rich meal. Sometimes that means our costs are higher to produce the delicious salads, grain bowls, and plates we offer, but we know its worth it so our customers can eat better.
How do you choose what goes best together? There are so many options!
At MIXT, our salad chefs are there to help you build a masterpiece. They know what ingredients pair well, and how to make something you'll love. They're experts in helping you choose the best flavors, how much dressing or which dressings to add, and "what else would be good on that". Our Executive Chef, Jeffrey Amber is the mastermind behind our seasonal and signature salad combinations which have been crafted to be the perfect mixture of flavors.
What inspired the new MIXT Kid's Menu?
The kid's menu was made to be everything customers love about MIXT's healthy meals, but for little ones. Tailored to children's often finicky palates, the menu includes balanced and delicious options that kid's love.
Do you cater in the East Bay?
We absolutely cater! It would be our pleasure to help you put together a menu that will meet your event's needs and will provide you with creative catering options. It's as simple as placing an order online or emailing our store at hello@mixt.com.
What does it mean to be a Certified B Corporation?
Certified B Corporations are businesses that meet high standards of social and environmental performance, public transparency, and legal accountability to balance profit and purpose. At MIXT, we want people to find purpose at our company, so we promote from within and inspire our employees to be their best and grow professionally. From our employee benefits to our sustainable practices, we care about making a positive impact.
What does MIXT do to differentiate themselves as a sustainable business?
We know that what we eat impacts the earth as much as ourselves, so sustainability is at the core of everything we touch, make and do—even if it negatively impacts our bottom line. What matters most to us is creating delicious meals that support a better way of eating. We're not just dedicated to being "green," we're passionate about protecting the natural systems that sustain us—a philosophy we hope is shared among our customers. 99% of our waste is diverted from landfills, and we serve more than 1,000,000 pounds of local, sustainable and organic vegetables per year.