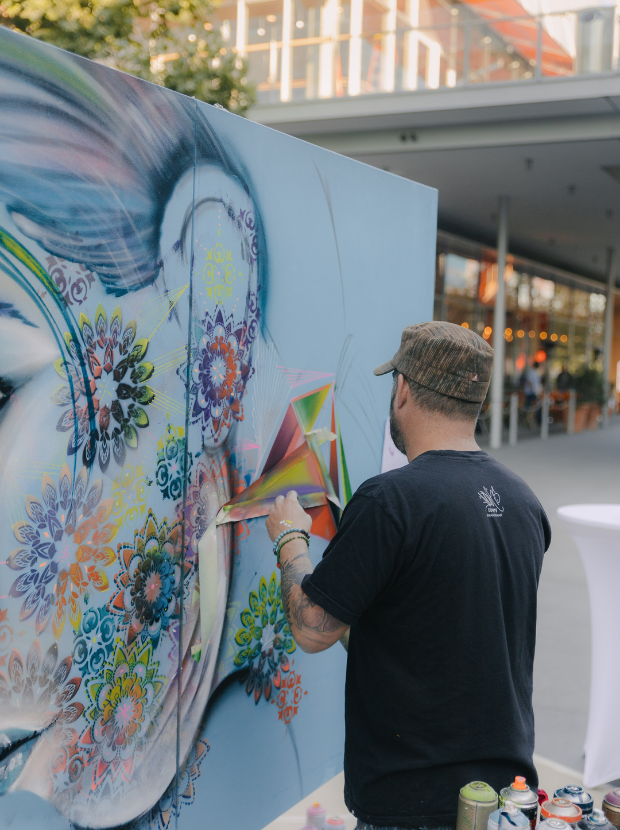 Live Art Thursdays
Sep 16, 2021
4:00pm–8:00pm
Save your 3rd Thursdays now through October for a chance to watch mural art being created live in City Center's Alexander Square.
On Sept 16, talented and recognized local street artists will be painting on 5 x 8 feet canvases, using various media. Visitors to the immersive art experience will be able to talk with the artists while they work – though only the artists will be putting paint to canvas. Adding to the street art feel of the events will be tunes by a local DJ.
The open-air creative sessions will begin at 4 pm and run until 8 pm. Each event will include two to three Bay Area artists painting in the tree-shaded space alongside the fountain in Alexander Square.
Live Art Thursdays will wrap up on  Thursday, October 21 when City Center Bishop Ranch hosts an open house art show featuring the live art canvases painted over the previous three months. The event will be open to the public, and in addition to the newly painted canvases, will include other art for sale by the artists.
Live Art Thursdays will bring the creative process to life, from blank canvas to finished piece.
Location
Alexander Square
View Directions
Check out the completed artwork for August's Artists
Check out the completed artwork for July's Artists
Artist curated by Talking Walls