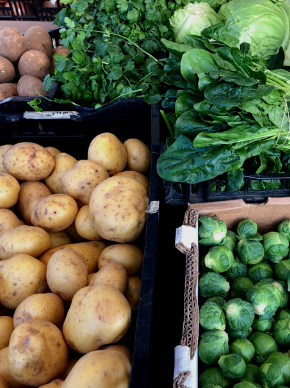 Saturday San Ramon Farmers Market
Jun 11, 2022
9:00am–1:00pm
Join us at our California Certified Farmers Market, managed by Local Roots, a local non-profit. Enjoy fresh fruits, vegetables, eggs, honey flowers and more, direct from small farmers and independent, local businesses.
What's In Season? Winter Veggies
We are blessed in California with a year-round growing climate. Some of the winter vegetables from our local growers at the farmers market include carrots, brassicas, radishes, turnips, rutabagas, parsnips, beets, parsley, cilantro, kohlrabi, watercress, celery, chard, spinach, bok choy, lettuce, kale, mustard greens, radicchio, arugula, fennel and onions and garlic.
Location
City Center Bishop Ranch
View Directions
Event Details
Saturday's vendors include Sun Rise Farms, Medina Farms, Kimberley's Kitchen, Mellows Nursery, Carla's Egg Ranch, Hummus Heaven and more. Visit the San Ramon Farmers Market for more information.