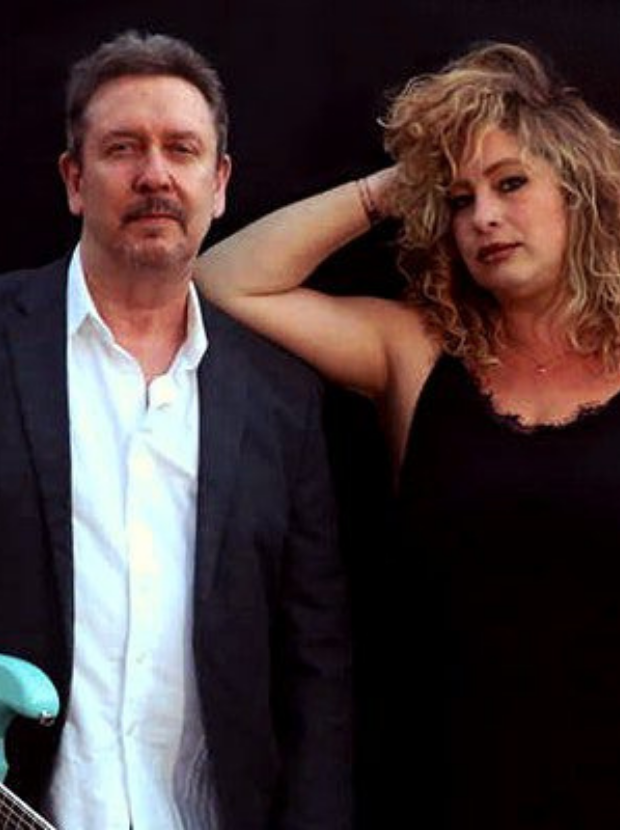 City Center Unplugged featuring Zenn VuDu
Jun 17, 2022
6:00pm–8:00pm
Celebrate your summer with City Center Unplugged, a Friday evening outdoor music series featuring an array of local bands.
Save those Friday evenings for dinner at one of City Center Bishop Ranch's many restaurants. Grab an outside table, enjoy a leisurely dinner, and catch some of the tunes that will be filling Alexander Square.
Each Friday's music will have its own rhythm and beats, with everything from retro to rock, Brazilian to blues, Latin to salsa, and of course a good dollop of jazz. You just might find yourself dancing your way back to the car. And setting the tone for a fine weekend.
Location
Alexander Square, at City Center Bishop Ranch
View Directions
JUNE 3
Monica da Silva– Monica da Silva and Chad Alger are a Brazilian American duo, whose original sound blends Bossa Nova, Acoustic Folk, and French Cafe styles into a genre they've coined Indie Nova. Their songs have been nominated for an International Brazilian Press Award, and are featured in the Golden Globe Award winning movie 'Lady Bird', in the Netflix movie "The Last Summer", on the Putumayo World Music compilation 'Brazilian Beat', in The 2014 FIFA World Cup, and appeared in the 2019 Pre Fall campaign for the American fashion designer Tory Burch.
JUNE 10
Twice As Good– Twice As Good, Paul & Rich Steward, the Son and Father Native American Ultimate Blues Duo! 2010 Nammy Award winners, this Soulful and Rockin' Rhythm and Blues team was birthed on the Pomo Indian lands of the Elem Indian Colony reservation, carrying that Native beat, and having traveled worldwide with their pristine mesmerizing sound.
JUNE 17 Zenn VuDu-
Band leader and songwriter, Steve Dunne of Lydia Pense and Cold Blood, teams up with Cold Blood support vocalist, powerhouse soul singer, Dana Moret, in a project highlighting their over a decade long songwriting partnership to form Zenn VuDu. Combining their years of co-written pieces and a few respective solo numbers that have yet to see the light in this incarnation, the band's fresh take and musical prowess features a mix of nostalgic soulful blues with a modern pop rock twist that elevates their show to another level. With original numbers nodding to such greats as Etta James, Aretha Franklin, Bonnie Raitt and Grace Potter, Zenn VuDu takes the soul songbook of yesteryear and crafts their own stories, leaving their audiences with memorable ear candy to hold them over until the next show.
JUNE 24
Dave Rocha Band- Dave Rocha is a virtuoso trumpet player who also doubles on the flugelhorn. He has been a main fixture in the Bay Area jazz scene for over twenty years. His performances bring to light many of the all-time jazz standards, as well as some of the lesser-known compositions that deserve more play. Be ready for some high-level, instrumental jazz improvisation from Dave's trio.
JULY 1ST
Poi Rodgers duo- Somewhere in-between the tropical lounges of 1930s Los Angeles and the honky tonk beer joints of rural 1950s California, you'll find Poi Rogers, performing vintage country & western swing, Hawaiian steel guitar ballads and cowboy tunes. Gerard Egan and Carolyn Sills are both inductees into the Sacramento Western Swing Hall of Fame, and Carolyn is the current Academy of Western Artists Western Swing Female Vocalist of the Year.
JULY 8TH
Jinx Jones-  Jinx Jones has been twice nominated for Male Rockabilly Artist of the Year by the Ameripolitan Music Awards, has received gold and platinum record awards for his work with R&B divas, En Vogue, has won songwriting awards and has been recognized as one of the hottest acts on the San Francisco music scene.  In Jinx Jones' impressive musical career he has visited nearly every conceivable style and genre of the electric guitar. From his work Chuck Berry, Solomon Burke, and Roy Buchanan to his own acclaimed rockabilly albums, "License to Twang," "Rumble & Twang," "Rip and Run," Live Twang in Finland." And "Twang-Tastic!," Jones has always strived to expand the possibilities of the instrument. He accepts every musical challenge head on, always making an impressive statement with his music. The one thing that remains consistent throughout Jones' multi-stylistic journey is the grace and finesse of his virtuoso playing.
JULY 15TH
Rowan Brothers– Chris and Lorin Rowan (both guitar, and vocals) began working together as a duo in San Francisco, California, USA, during the early 70s. They were helped by Grateful Dead guitarist Jerry Garcia who occasionally played with them live. Their CBS Records debut was a pleasant if uninspired, collection.
JULY 22ND
Michelle Lambert– Rising star, Michelle Lambert, brings a world of experience when she steps up to the microphone. This Pop singer/songwriter has toured from coast to coast making waves all over the country. Michelle's 2021 single, Come to Me, has caught the attention of the press and reached number 1 on Indie Radio!
JULY 29TH
Tracy Cruz– Multiple award-winning R&B/Soul/Jazz music artist Tracy Cruz has a voice that will melt even the toughest of hearts. This vocal powerhouse aims to connect communities with her universal language of love, hope, and happiness. Her unique musical and lyrical blend — Bay Area urban soul tinged with the influence of her indigenous Filipino roots –has captured the ears of music lovers around the world.
AUGUST 5TH
Roem Baur– Roem Baur is a dynamic singer and touring songwriter based in the city of San Francisco. His unique sound is mostly known for appearances on season 7 of NBC's The Voice, the city stage at Super Bowl 50, features at SXSW & CES, and tours in Canada, the Netherlands, Germany, England, Zimbabwe, and the United States.
AUGUST 12TH
David Correa– A National recording & touring artist David Correa has been entertaining audiences since 1999 with his passionate and distinctive blend of instrumental Latin/World Guitar. The music is a blend of the Spanish guitar with Latin rhythms from Old Mexico & Central America, Afro-Cuban and Rumba Flamenca.
AUGUST 19TH
Pacific Standard– Whether performing with Pacific Standard or as a soloist, Greg Lamboy is a musical artist with a strong voice, powerful guitar, and a heart connected to the community.  Greg's music is currently being heard on radio stations near and far, including KFOG's Acoustic Sunrise, Costa Rica and the UK. Weaving unforgettable melodies with raw emotion, he creates accessible music that wins the hearts, minds, and ears of all who listen.
AUGUST 26TH  
Edgardo & La Ti Do is a Salsa Band based in the San Francisco Bay Area for over 30 years, making us one of the most established Salsa Orchestras in California.
SEPT. 2
Tia Carroll– Award winning California native Tia Carroll has quietly accumulated one of the most impressive entertainment resumes in the Bay Area and has become one of the most sought-after female singers on the West Coast.        Tia has headlined venues and festivals all over the world with her band as well as some very well-established host bands. She has shared stages with legends Ray Charles, Jimmy McCracklin, Syl Johnson, Sugar Pie DeSanto and B.B King, Tommy Castro, Elvin Bishop, Igor Prado and Eric Gales.
SEPT. 9
The Evan Thomas Blues Band– Evan Thomas has that thang. It's in his inner soul, and that feeling which captures a down home essence, the foot stompin', and head – nodding style, of the old Mississippi delta blues tone. It's the grit, in his soulful voice and his cryin' guitar which sets him apart. Evan Thomas's classic, electric blues guitar style, is influenced by some of the great guitar players of our time.
SEPT. 16
Nick Tyrell-Whether he is appearing on the Music Row Country Breakout Chart or writing alongside some of the industry's top songwriters and producers, Nick Tyrrel's list of achievements in music never stops growing. Inspired by the likes of Jake Owen, Matchbox 20 and U2, the 26-year-old vocalist, lyricist and guitarist from San Francisco has opened for popular acts like Cole Swindell, Tyler Rich, Matt Stell, Tyler Braden, SmashMouth, REO Speedwagon, Styx and Thompson Square.
SEPT. 23
Pacific Standard– Whether performing with Pacific Standard or as a soloist, Greg Lamboy is a musical artist with a strong voice, powerful guitar, and a heart connected to the community.  Greg's music is currently being heard on radio stations near and far, including KFOG's Acoustic Sunrise, Costa Rica and the UK. Weaving unforgettable melodies with raw emotion, he creates accessible music that wins the hearts, minds, and ears of all who listen.
SEPT. 30
Bell Brothers– For nearly 20 years, The Bell Brothers have graced the musical landscape with a high-powered blend of Country, Rock and Americana musical style, equally rooted in raw passion, refined musicianship, hard work and gritty authenticity.  The Bell Brother's sound continually evolves over time, but what has always remained the same is their organic, live-show focused delivery with authenticity perfected in coffee shops, clubs, amphitheaters and stadiums across the United States.